callsign lookup
---
I will be operating as KG4AW in Guantanamo Bay, Cuba 10 - 24 February, 2017. Internet is limited but I will update clublog as often as I can.
QSL direct to KG9LB above. USA send SASE, DX send 2 USD and SAE. No IRCs please. Buro Ok. I do not use LOTW.
My log will be posted periodically to Club Log. Please check periodically to confirm your contact below: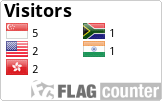 Large Visitor Globe
---

DISCLAIMER:





The information shown here comes from www.qrz.com. If you are this callsign owner and want to update or remove this information, please do it directly at www.qrz.com.