callsign lookup
---
I operated from Turks & Caicos Islands in the 2014, 2015, and 2016 ARRL DX CW contests under the call VP5S (2014 & 2015) and VP5K (2016). Outside the contest I operated as VP5/KPC. QSL VP5/K0PC via LOTW, SASE direct to me, OQRS through ClubLog below, or Bureau. Other operators on these trips include Scott KMD, Bill ACW, and Fred K4IU.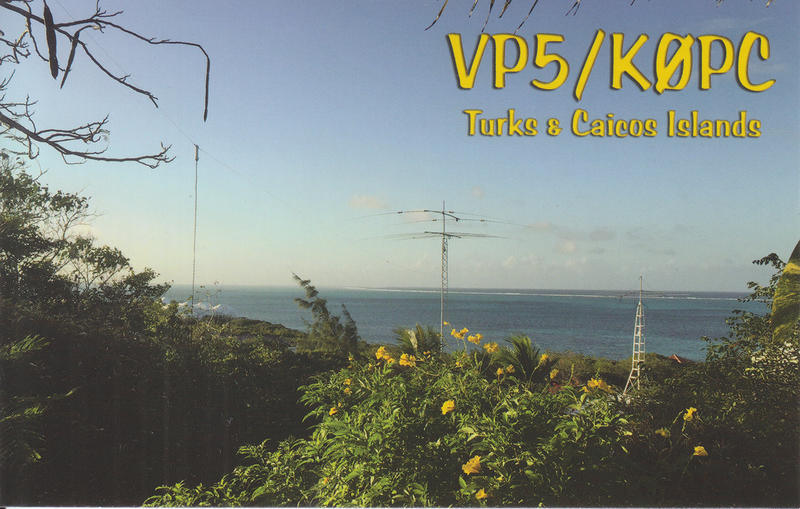 ---
I was licensed in 1969 while in high school in Fort Dodge, IA. My original call was WNZSF, upgraded to General in 1970 as WAZSF and Extra in 1980 as KND. I applied for my KPC call when the vanity call program opened in 1996. My interest in amateur radio began when Dr. Paul Kersten, WWIT (SK), donated some of his equipment to my high school.
These days my interests tend to CW contests and DXing. I am currently serving as secretary/treasurer of the Twin City DX Association and webmaster of the Minnesota Wireless Association and the TCDXA. Since 2004 I have operated mobile in state QSO parties in Minnesota, Wisconsin, Iowa, Illinois, South Dakota, and Nebraska.
QSL via LOTW or Direct. All of my QSOs back to my Novice days are loaded on LOTW.
---
Operated the 2003 through 2016 Minnesota QSO Party from many counties on the first Saturday in February. Currently hold the scoring record for mobiles from the 2014 outing where I had 1284 QSOs in the ten hour contest. I have finished first in the mobile category three times.
---
Operated the 2011 through 2016 Wisconsin QSO Party as W9DND/m. This is the call of my QSO Party driver, John. The call originally belonged to John's uncle Archie (Art) Smith (SK). Archie was an outstanding CW operator and this call has been very good luck for us with four first place finishes.
---
Operated the Iowa QSO Party every year since 2009 with several first place finishes. I always enjoy a drive around my home state each fall. It complements my bike ride across Iowa (RAGBRAI) each summer since 2004.
---
Operated the Illinois QSO Party for the first time in 2016. This event runs the day after the IA QSO Party so it makes a nice double header for the weekend.
---
Operated the 2012 South Dakota QSO Party from 25 counties on April 21 & 22. Total of 860 QSOs & 60 mults for 206,400 points.
---
---

DISCLAIMER:





The information shown here comes from www.qrz.com. If you are this callsign owner and want to update or remove this information, please do it directly at www.qrz.com.