callsign lookup
---
Now back in the USA. Spending about a month in a small log cabin on a hillside in NH. The location is Newbury, NH and the hillside is called Baker Hill. This is another property owned by my son and he allows me to use it during the summer. It sits on about 25 acres of mostly woods and is at 1400 feet ASL. It is a small place but just right for my purposes. It even has a back up generator in case of power failures.
Here is another picture of the cabin, and you can see the end fed wire. This is a side view. Nice small patio.
Here is the view I have off the front porch. The mountains in the distance are in Vermont. The place faces West so I see some pretty spectacular sunsets.
Here is the setup. Using a Yaesu FT-450D and an end fed wire that is 53 feet, exactly like the one in the drawing below. Also using a KX2 and a couple of Mountain Toppers for QRP work.
This is my QRP window on the world. A fair number of people think QRP is a waste of time, but I have always felt that QRP is the fly fishing of amateur radio. It takes patience, skill and persistence. I think QRP might actually mean "Quantities of Ridiculous Patience?" The payoff is not just a QSO, but an accomplishment.
This place is loaded with wildlife...wild turkey, deer, skunk, and even BEAR. But, here are some regular visitors who stop by daily to peck at the blueberries and grubs.
This guy is pretty brave...but wait til Thanksgiving!!!!!
Sunset at Baker Hill...looking west into Vermont.
Here is the wire that I have been using that has gotten good results.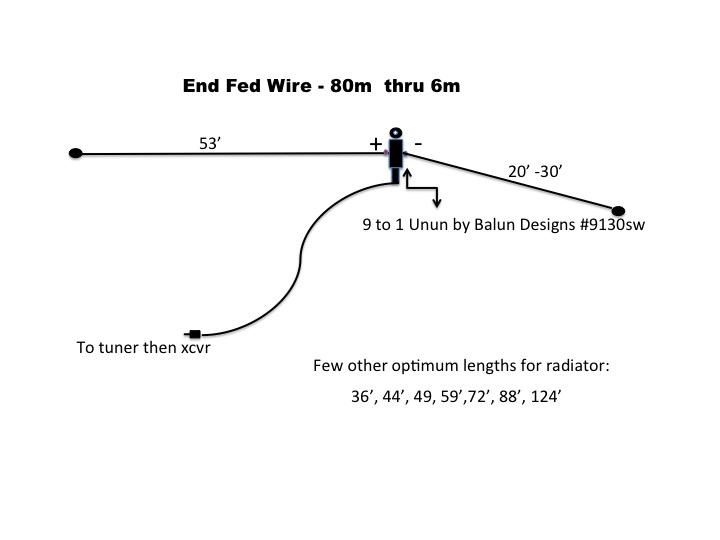 NOTES:
If anybody is interested in what I do for a living, check: www.elevenexperience.com
QSL cards for ANY contact should be sent to the Bokeelia, FLaddress on QRZ.com or the QSL Bureau. Do not send any funds.
Bokeelia, FL is on Pine Island which is IOTA NA-069 and grid square : EL86wq.(W4MQC)
Pine Island is in Lee Country in Florida.
Goshen, NH is in Sullivan Countyand grid square : FN33wh.(W4MQC/1)
Newbury, NHis in Merrimack County and grid square : FN33xi.(W4MQC/1)
The Priory in Edington, Wiltshire County, United Kingdom is grid square IO81WG, WAB = ST95 (M/W4MQC)
Osprey, FL (daughter's QTH) is in Sarasota County and grid square : EL87se. (W4MQC/p)
The Cayo Costa (a.k.a. Lacosta) Island QTH and the East Part Island QTH are also IOTA NA-069, and are in Lee County and both in grid square : EL86vp.
Member of A-1 Operator Club.
A few numbers for those interested: 10-10: 8274, QRP ARCI: 3788, FISTS: 6198, NE QRP: 41, FPQRP: 1042, NA-QRP: 481, SKCC: 1234, CW Ops: 182, FOC: 1734.

Rev: W4MQC - Saturday, May 17, 2010
---

DISCLAIMER:





The information shown here comes from www.qrz.com. If you are this callsign owner and want to update or remove this information, please do it directly at www.qrz.com.