callsign lookup
---
My gypsy lifestyle is slowing up for the year. Back in Florida now on Pine Island. Here until May of 2016 unless I get restless? Just returned from a Colorado/Utah trip. Took the Mountain Topper QRP rig along for 2 watts into an end fed wire. Using an Elecraft T1 antenna tuner. Did not have much time to use it but made a few contacts. Here is the setup. The small speaker is hooked to an audio amplifier I got from Amazon (DROK mini stereo amp) for $9.88.
Now when I tell you that this rig is no bigger than a deck of playing cards, I am not fooling. Check it out.
This is my other main QRP rig. The Elecraft KX3 is a fantastic piece of gear. It has everything you could ever want in a QRP rig. If you push it, you can squeeze about 12 watts out of it but I guess I am sort of old fashioned and stick to 5 watts. I had an old iPhone in the desk drawer and found an app that turns out to be a terrific tuning aid. It is called bs-spectrum. By setting it at 600 hz, I can tune the other station in perfectly.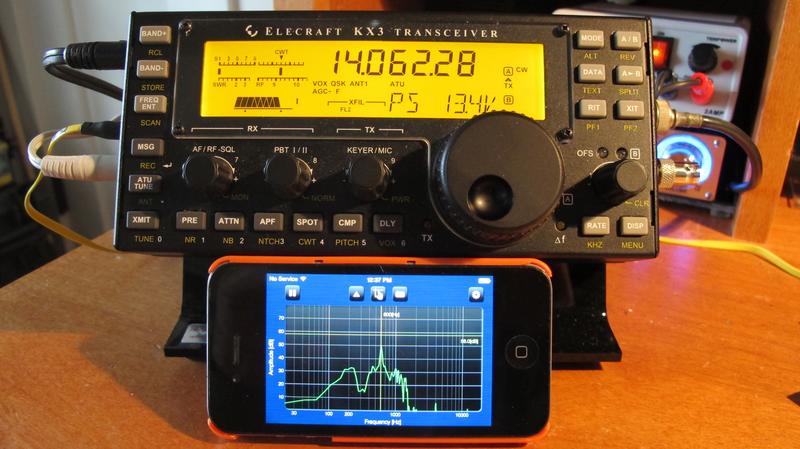 Now comfortably back in Bokeelia, Florida until late May when I head out again for more adventures. This is a magical place with great sunsets, cold beer and friendly folks.
Pine Island is a bit of old Florida. No real beach, so not all that many day tourists. It has a certain tattered around the edges charm.
I was trying to get my windom back up attached to my flag pole in the front of my place. It was a real struggle. Ever put a ladder up against a flag pole? Not the best idea. Pretty wobbly. The guy down the street was having some tree work done. The bucket truck came by my place and stopped. A guy jumped out and asked what I was doing? I gave him the usual "ham radio wacko trying to install an antenna" story and he beamed and said "Wow! My Dad was a ham back in Chicago." Next thing I knew, he had the bucket extended to the top of the flag pole and with a helper, attached the windom to the top. I tried to pay him but he refused and just smiled and drove off. Sometimes you get reassured about the generosity of people?
Plenty of bird life here. One winter visitor that I look forward to seeing every year is the White Pelican. They winter here from Canada. Smart birds.
One other bird that really is plentiful here is the Osprey. They are great fishermen and sometimes called a Fish Hawk. I have one that roosts daily on a tree branch behind my house. He (or perhaps a close relative) has come to that tree branch for about 10 years now.
That is about it for now. Appreciate you taking an interest in my QRZ page.
Hope to catch you on the bands!!!!
Here is the antenna that I have now used in Iceland, England, NH and FL. Easy to deploy and multiband. The short end, counterpoise, can be any non-resonant length and should be run away from or perpendicular to the radiator. More than one counterpoise is good, but they should be non-resonant lengths. Although I have never tried this, if your coax run to the balun is over 25', you can go without the counterpoise (like the EARCHI end fed or the PAR antennas). The counterpoise can also be dropped vertically. Balun Designs offers an excellent UNUN for use on this antenna. I highly recommend it and it costs around $50 and handles up to 300 watts. I have done this with good success in an L configuration. In Iceland and England, I used this wire with a 2 watt QRP rig and talked all over Europe. Give it a shot!!!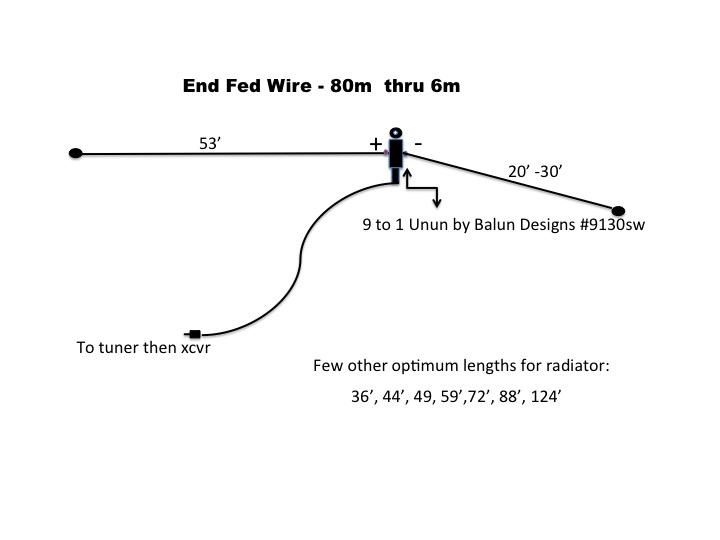 If anybody is interested in what I do for a living, check: www.elevenexperience.com
For contacts in NH or CO, QSL to P.O. Box 133, Goshen, NH 03752...FL QSO's can get a card to me here at the Bokeelia address above.
Please note: Bokeelia is on Pine Island which is IOTA NA-069.
Pine Island is in Lee Country in Florida.
Goshen is in Sullivan County in NH.
The Cayo Costa (a.k.a. Lacosta) Island QTH and the East Part Island QTH are also IOTA NA-069, and are in Lee County.
Member of A-1 Operator Club.
A few numbers for those interested: 10-10: 8274, QRP ARCI: 3788, FISTS: 6198, NE QRP: 41, FPQRP: 1042, NA-QRP: 481, SKCC: 1234, CW Ops: 182, FOC: 1734.

Rev: W4MQC - Saturday, May 17, 2010
---

DISCLAIMER:





The information shown here comes from www.qrz.com. If you are this callsign owner and want to update or remove this information, please do it directly at www.qrz.com.