callsign lookup
---
Back in Florida now on Pine Island. Here until June and then I hit the road again, Italy, England then ending up in NH. But for now...am back here in Bokeelia on the northern tip of Pine Island. Have been enjoying the Florida winter here. Lots of visitors thoughbut that happens every year in February and March. But who in their right mind would put up with snow, cold, ice and wind that cuts into you like an ice pick.
Pine Island is "old Florida." Folks here have held onto slowing up development, and fostering the "island life" which is code for taking things slowly, and avoiding stress at all costs. I have been enjoying the bands despite some funky conditions and the usual QRN from all that weather that collects out in the Gulf. I am still using 2 antennas. One is an end fed that is 53 feet long and the other is a 43 foot vertical mounted on a mooring post out on my dock. It whips around in the wind but still does a great job.
Here I am heading out of the canal to the Sound for a little fishing.
Here is my QTH. I think I might have either the only one, or at least one of the few cedar shake houses in Florida?
Here are the 2 QRP rigs that I use quite often. The blue one is a Mountain Topper MT3B. It covers 40, 30 and 20 powered by 9 volts for an output of around 2 watts. The gray one is a Mountain Topper MT5B. It covers 40, 30, 20, 15 and 17 meters powered by 12 volts for about 5 watts of output. Both have excellent receivers and are small enough to fit easily in a back pack. I use an Elecraft T-1 tuner with both rigs and generally either a 40m dipole or a 98 ft long end fed. By the way, the Elecraft T1 tuner could tune up a ten penny nail.
I just could not resist this newest rig. It is the LNR Precision Mountain Topper MT4B, It covers 80 through 20 powered by 12 volts for around 4 watts. It is a little thicker than the MT3B and MT5B but with a much nicer display that is easy to read. If you are looking for a reasonably priced, reliable QRP rig you should consider one of these transcievers. They are compact and make a terrific travel rig. They are designed by Steve Weber, KD1JV, who has done a superb job of putting a lot of performance into a very small package. Regarding QRP, a lot of folks go the other way with amps and big power. But if you want a challenge, and like to operate portable then you should pick up one of these little rigs and give QRP a try, or simply turn down that transciever to about 5 watts and see what you can do? It puts a bit of pressure on your operating skills, but each QSO becomes an accomplishment. QRP is the fly fishing of ham radio.
One of my favorite past times is to sit out on my upper back deck which overlooks the mangroves and watch the birdlife. Imagine seeing Osprey jockeying for territory and zooming at each other like WW1 fighter planes in a dog fight. Then the Herons and Ibis and occassional Pelican comes by. I really do live in paradise.
Here is the latest adventure. Did a 3 day fishing trip in the Everglades National Park. We have a 73 foot Hatteras that anchored in the Shark River. We slept and ate on the Mothership and fished in small skiffs off that boat.
Here are the small skiffs, or "flats boats" that we used for fishing. They hold one fisherman and a guide. There 4 of these small boats that are tethered to the Mothership.
The Everglades is a fascinating place. It is extremely remote. No cell coverage, no wifi, we make our own water and electricity. It is mile after mile of mangrove islands with towering trees. You seldom see another human.Without a chart orGPS, it would be pretty easy to get lost in this place. But the fishing there is incredible for Tarpon, Snook and Red Fish. There is no dry land under those trees. Just a tangle of roots down into the water so you really are limited to traveling by boat everywhere you go.
Here is a nice Snook I got with an artifiial lure. I had been fishing with a fly rod, but the wind came up making fly fishing futile. This Snook put up a great fight. We put it back in the water for the next guy to catch.
Here is the antenna that I have now used in Iceland, England, NH and FL. Easy to deploy and multiband. The short end, counterpoise, can be any non-resonant length and should be run away from or perpendicular to the radiator. More than one counterpoise is good, but they should be non-resonant lengths. Although I have never tried this, if your coax run to the balun is over 25', you can go without the counterpoise (like the EARCHI end fed or the PAR antennas). The counterpoise can also be dropped vertically. Balun Designs offers an excellent UNUN for use on this antenna. I highly recommend it and it costs around $50 and handles up to 300 watts. I have done this with good success in an L configuration. In Iceland and England, I used this wire with a 2 watt QRP rig and talked all over Europe. Give it a shot!!!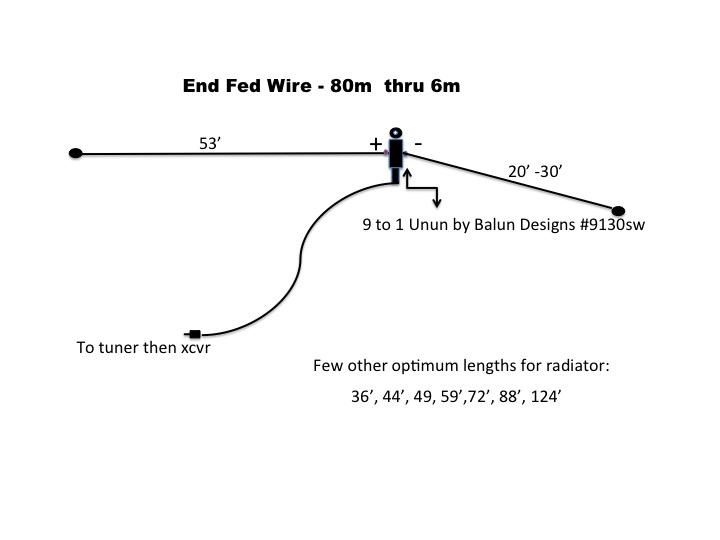 If anybody is interested in what I do for a living, check: www.elevenexperience.com
QSL cards for any contact should be sent to the FL address on QRZ.com.
Please note: Bokeelia is on Pine Island which is IOTA NA-069.
Pine Island is in Lee Country in Florida.
Goshen is in Sullivan County in NH.
The Cayo Costa (a.k.a. Lacosta) Island QTH and the East Part Island QTH are also IOTA NA-069, and are in Lee County.
Member of A-1 Operator Club.
A few numbers for those interested: 10-10: 8274, QRP ARCI: 3788, FISTS: 6198, NE QRP: 41, FPQRP: 1042, NA-QRP: 481, SKCC: 1234, CW Ops: 182, FOC: 1734.

Rev: W4MQC - Saturday, May 17, 2010
---

DISCLAIMER:





The information shown here comes from www.qrz.com. If you are this callsign owner and want to update or remove this information, please do it directly at www.qrz.com.