callsign lookup
---
Back in Florida now on Pine Island. Here until June and then I hit the road again, Italy, England then ending up in NH. But for now...am back here in Bokeelia on the northern tip of Pine Island. Have been enjoying the Florida winter here. Lots of visitors thoughbut that happens every year in February and March. But who in their right mind would put up with snow, cold, ice and wind that cuts into you like an ice pick.
Pine Island is "old Florida." Folks here have held onto slowing up development, and fostering the "island life" which is code for taking things slowly, and avoiding stress at all costs. I have been enjoying the bands despite some funky conditions and the usual QRN from all that weather that collects out in the Gulf. I am still using 2 antennas. One is an end fed that is 53 feet long and the other is a 43 foot vertical mounted on a mooring post out on my dock. It whips around in the wind but still does a great job.
Here I am heading out of the canal to the Sound for a little fishing.
Here is my QTH. I think I might have either the only one, or at least one of the few cedar shake houses in Florida?
Here are the 2 QRP rigs that I use quite often. The blue one is a Mountain Topper MT3B. It covers 40, 30 and 20 powered by 9 volts for an output of around 2 watts. The gray one is a Mountain Topper MT5B. It covers 40, 30, 20, 15 and 17 meters powered by 12 volts for about 5 watts of output. Both have excellent receivers and are small enough to fit easily in a back pack. I use an Elecraft T-1 tuner with both rigs and generally either a 40m dipole or a 98 ft long end fed.
Here is the antenna that I have now used in Iceland, England, NH and FL. Easy to deploy and multiband. The short end, counterpoise, can be any non-resonant length and should be run away from or perpendicular to the radiator. More than one counterpoise is good, but they should be non-resonant lengths. Although I have never tried this, if your coax run to the balun is over 25', you can go without the counterpoise (like the EARCHI end fed or the PAR antennas). The counterpoise can also be dropped vertically. Balun Designs offers an excellent UNUN for use on this antenna. I highly recommend it and it costs around $50 and handles up to 300 watts. I have done this with good success in an L configuration. In Iceland and England, I used this wire with a 2 watt QRP rig and talked all over Europe. Give it a shot!!!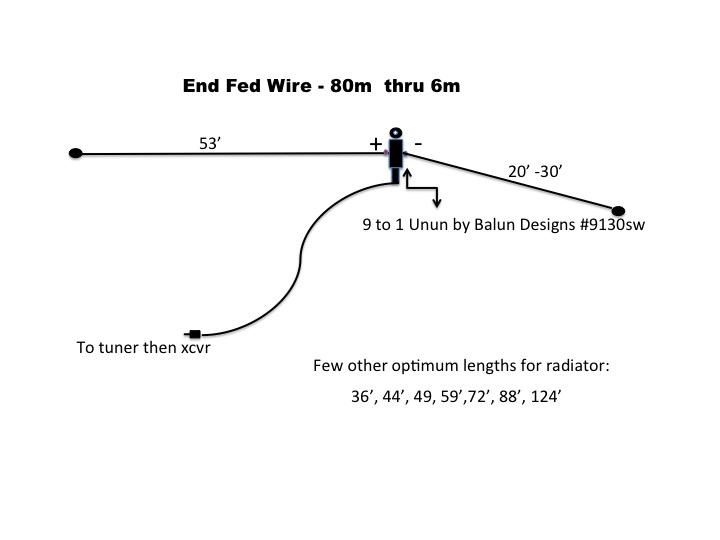 If anybody is interested in what I do for a living, check: www.elevenexperience.com
QSL cards for any contact should be sent to the FL address on QRZ.com.
Please note: Bokeelia is on Pine Island which is IOTA NA-069.
Pine Island is in Lee Country in Florida.
Goshen is in Sullivan County in NH.
The Cayo Costa (a.k.a. Lacosta) Island QTH and the East Part Island QTH are also IOTA NA-069, and are in Lee County.
Member of A-1 Operator Club.
A few numbers for those interested: 10-10: 8274, QRP ARCI: 3788, FISTS: 6198, NE QRP: 41, FPQRP: 1042, NA-QRP: 481, SKCC: 1234, CW Ops: 182, FOC: 1734.

Rev: W4MQC - Saturday, May 17, 2010
---

DISCLAIMER:





The information shown here comes from www.qrz.com. If you are this callsign owner and want to update or remove this information, please do it directly at www.qrz.com.