callsign lookup
---
My gypsy lifestyle is slowing up for the year. Back in Florida now on Pine Island. Here until May of 2016 unless I get restless? Just returned from a Colorado/Utah trip. Took the Mountain Topper QRP rig along for 2 watts into an end fed wire. Using an Elecraft T1 antenna tuner. Did not have much time to use it but made a few contacts. Here is the setup. The small speaker is hooked to an audio amplifier I got from Amazon (DROK mini stereo amp) for $9.88.
Now when I tell you that this rig is no bigger than a deck of playing cards, I am not fooling. Check it out.
Went over to Moab, Utah and did a big loop of National and State Parks. If you get a chance, I would highly recommend seeing that part of our country. It is a real treasure. Here is me and my daughter enjoying Dead Horse Canyon State Park.
Arches National Park is one of my favorites. Been there couple of times now and it really has that western feel.
Canyonlands National Park also has some arches. Here is Mesa Arch during the day. Nice arch but no big deal.
My brother and his XYL went along and he got up the next morning at 5 am and went out to the arch with about 30 other photographers and a bus load of Japanese tourist and got this shot. Despite the crowd, pretty impressive.
Bryce Canyon was another treat. Lots of these spires called "hoo do" formations.
Zion National Park was impressive, but a bit of a "Disney World" type experience. You have to ride a trolly from place to place. No cars allowed. It was pretty crowded too.
Stayed in a small cabin at the end of the trip. This property is owned by the trust fund I manage and is in Almont, Colorado near Crested Butte. It is right on the banks of the Taylor River which is full of whopper trout.
Here is a shot of the Taylor River on the only rainy day of the 10 day trip.
Hope to catch you on the bands!!!!
Here is the antenna that I have now used in Iceland, England, NH and FL. Easy to deploy and multiband. The short end, counterpoise, can be any non-resonant length and should be run away from or perpendicular to the radiator. More than one counterpoise is good, but they should be non-resonant lengths. Although I have never tried this, if your coax run to the balun is over 25', you can go without the counterpoise (like the EARCHI end fed or the PAR antennas). The counterpoise can also be dropped vertically. Balun Designs offers an excellent UNUN for use on this antenna. I highly recommend it and it costs around $50 and handles up to 300 watts. I have done this with good success in an L configuration. In Iceland and England, I used this wire with a 2 watt QRP rig and talked all over Europe. Give it a shot!!!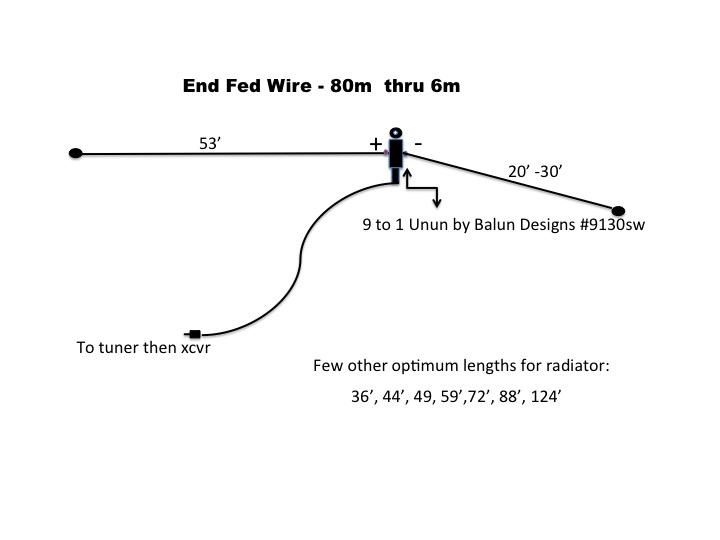 If anybody is interested in what I do for a living, check: www.elevenexperience.com
For contacts in NH or CO, QSL to P.O. Box 133, Goshen, NH 03752...FL QSO's can get a card to me here at the Bokeelia address above.
Please note: Bokeelia is on Pine Island which is IOTA NA-069.
Pine Island is in Lee Country in Florida.
Goshen is in Sullivan County in NH.
The Cayo Costa (a.k.a. Lacosta) Island QTH and the East Part Island QTH are also IOTA NA-069, and are in Lee County.
Member of A-1 Operator Club.
A few numbers for those interested: 10-10: 8274, QRP ARCI: 3788, FISTS: 6198, NE QRP: 41, FPQRP: 1042, NA-QRP: 481, SKCC: 1234, CW Ops: 182, FOC: 1734.

Rev: W4MQC - Saturday, May 17, 2010
---

DISCLAIMER:





The information shown here comes from www.qrz.com. If you are this callsign owner and want to update or remove this information, please do it directly at www.qrz.com.