callsign lookup
---
Did Christmas in Colorado this year. Flew from Coral Creek Airport in Placida, FL to Gunnison, CO in style. When I fly, I am usually crammed into a butt hugging seat on Southwest next to a screaming 4 year old and a coughing, sneezing shoe salesmen from Akron. Not this time. My son took care of a very nice charter on a Gulfstream 4. With grandkids and in-laws there were 12 of us and it was a beautiful ride to Colorado.
Our final destination was Crested Butte, CO where my son has a number of investments he owns. He has a hotel, restaurant, white water resort, ski area and brewery there. Crested Butte is one of the last "hippy" ski towns left in Colorado. Less pretentious than Aspen and only one way in and out. The town sits at the foot of Mt. Crested Butte. Most of the locals are there for the lifestyle, and embace all the outdoor recreation that the area offers, both summer and winter.
I stayed in an 1880s restored hotel called the Scarp Ridge Lodge, which is the hotel my son owns. Holds just 16 people and is a really classy joint. It has been a number of things over the years. A Croatian meeting hall for coal miners, a bar, a brothel, and now a hotel. Crested Butte went through gold, silver and finally coal mining until about 1952 when the last coal mine closed.
As you can see, there was no shortage of snow. In town, there was about 4 feet of snow on the flat. Here is what the street looked like in front of the lodge.
We would travel to the ski area in this snow cat. It was heated and very comfortable...one of 4 such vehicles that are part of the ski area called Irwin. This one has rubber treads so that it can be allowed on town roads. The other 3 have steel treads for use on the mountain.
We did our back country skiing about 12 miles West of Crested Butte. Pretty spectacular scenery there.
The snow cat drops you off at about 12,000 feet ASL and you work your down through various bowls and meadows on the back of a place called Scarp Ridge. Pretty cold and wind swept at the top, not to mention some major huffing and puffing for a guy who lives at sea level.
We also hit the wilderness for a Christmas tree and ended up with a real monster. It was 24 feet tall. We dragged it out of the woods, put it on the top of the snow cat and took it back to the lodge in town for a wonderful winter Christmas.
Here is the tree after we put it up in the lodge for Christmas.
Did some hiking on snow shoes as well. Here is my son's father-in-law, me in the middle, and my daughter Meredith on the other side. It was a real workout in 4 feet of snow, but unforgettable in pristine snow and beautiful landscapes. One night, we took a 2 mile snow shoe walk for dinner in a Yurt. It was a wonderful evening.
It was a great family Christmas. But, this is usually where I ended up around 5pm each day...ham radio took a back seat this trip.
Off to NH in a week. More ham radio up there from the old family place. Listen for me as /1.
Here is the antenna that I have now used in Iceland, England, NH and FL. Easy to deploy and multiband. The short end, counterpoise, can be any non-resonant length and should be run away from or perpendicular to the radiator. More than one counterpoise is good, but they should be non-resonant lengths. Although I have never tried this, if your coax run to the balun is over 25', you can go without the counterpoise (like the EARCHI end fed or the PAR antennas). The counterpoise can also be dropped vertically. Balun Designs offers an excellent UNUN for use on this antenna. I highly recommend it and it costs around $50 and handles up to 300 watts. I have done this with good success in an L configuration. In Iceland and England, I used this wire with a 2 watt QRP rig and talked all over Europe. Give it a shot!!!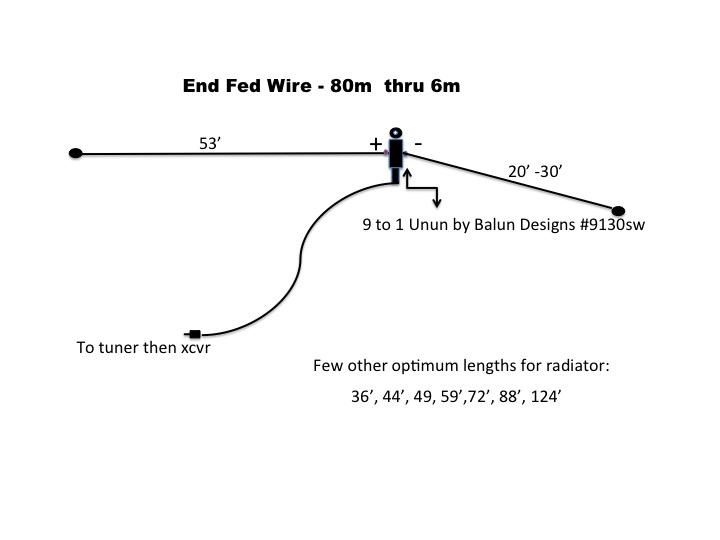 If anybody is interested in what I do for a living, check: www.elevenexperience.com
QSL cards for any contact should be sent to the FL address on QRZ.com.
Please note: Bokeelia is on Pine Island which is IOTA NA-069.
Pine Island is in Lee Country in Florida.
Goshen is in Sullivan County in NH.
The Cayo Costa (a.k.a. Lacosta) Island QTH and the East Part Island QTH are also IOTA NA-069, and are in Lee County.
Member of A-1 Operator Club.
A few numbers for those interested: 10-10: 8274, QRP ARCI: 3788, FISTS: 6198, NE QRP: 41, FPQRP: 1042, NA-QRP: 481, SKCC: 1234, CW Ops: 182, FOC: 1734.

Rev: W4MQC - Saturday, May 17, 2010
---

DISCLAIMER:





The information shown here comes from www.qrz.com. If you are this callsign owner and want to update or remove this information, please do it directly at www.qrz.com.