callsign lookup
---
I am F5RD Bernard. My station is located in the center part of France in a village called Prémilhat near the city of Montluçon.
I was born in 1947 and retired since 01/01/2008 as an electronic technician
Licensed in 1966 as F5RD.
I am active in all HF bands mainly in digital modes. My favorite bands are 30, 17, and 10 m.
My transceiver is an ICOM IC-751AF CAT controlled in a multiband center-fed antenna 2 x 20 m about 10 m up.
On 10 m I use also an home build 3 ele Yagi 5 m up.
For digital modes I have an USB interface RigExpert Standard, and my prefered softwares are MixW and Fldigi, both with DXLab suite.
I use also MMSSTV for SSTV on 80 m.
I enjoy very much PSK and RTTY contests. In this case, I use N1MM Logger.
Member of EPC #1138 FR03
For QSL I use the bureau, LoTW and eQSL (AG). I appreciate again paper QSL.
Of course, If you send me a QSL direct, I reply via the same way.
I hope to meet you on the air sometime
73 and good DX
Bernard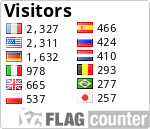 ---

DISCLAIMER:





The information shown here comes from www.qrz.com. If you are this callsign owner and want to update or remove this information, please do it directly at www.qrz.com.