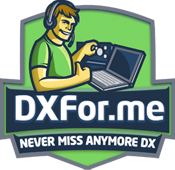 Dear Dxfor.me users,
For a long time I have not been able to work on this project. I built DXfor.me 3 years ago in order to offer a reliable service, with some easy to use features that I was not able to find anywhere. I don't expect to stop HAM Radio activities but I feel it would be even better to help DXwatch.com rather than trying to keep alive a service which is not anymore reliable and functional. Felipe, PY1NB kindly integrated the "play alert on new spot" feature which is now available from options tab on DXwatch.
Please consider donating to DXWatch. This will help Felipe and maybe myself to bring you even more useful DX tools in the near future. Thanks again for your understanding, and for being one of our Dxfor.me users.
73 de Cédric F5UKW
show/hide my last filters
rows to show:

www.dxwatch.com


send a spot / search spot by callsign

de
dx
freq
obs
time

IF THE SPOTS LIST DONT SHOW, PLEASE TRY DISABLING THE MAPS, ON THE RIGHT SIDE OPTIONS MENU AND RELOAD THE PAGE.

We are sorry for the inconvenience and working on a fix!
rows to show:

last announces

de
msg
time
Check the DX CALENDAR!

Follow us on twitter: @dxwatch



support us


support us
UTC